mmm. whatta babe.
i don't usually use words like "yummy" or pin up pictures of babes, but ewan, oh, ewan. he defies all that.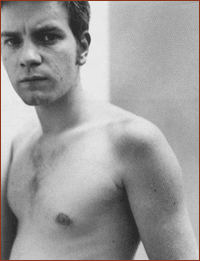 he's so yummy that i have a trainspotting postcard and an obi wan kenobe calendar on my cubicle wall. my co-workers think i am a teeny-bopper disguised as an adult, but i can't help it. ewan does that to me.
it's those crystal-clear eyes and that sandy colored hair and that body that he isn't afraid to show off on the big screen, thank god. (rent pillowbook. you'll die.)
and that accent. i am such a sucker for any UK accent, especially his.
so it's okay if i act and feel like i am 15, again. at least it's not any member of New Kids On The Block gazing down upon me from my cubicle wall. then i'd be worried.
xoxo,
c.
(photo courtesy of ewanspotting.com)
Tuesday, December 14, 1999